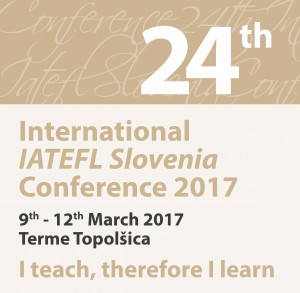 Photos from the conference can be found here.
Conference brochure is here.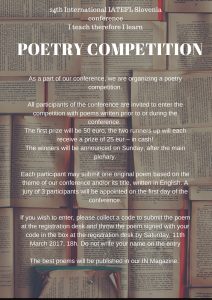 Poetry competition entires:
Poems of IATEFL Slovenia conference 2017
Jury:
• Lynda Steyne
• Jen Macarthur
• Lea Sobočan
Results of the competition
• 0305 (winner)
• Raca
• Ladybird
TO BE A TEACHER
To be or not to be a teacher
people sometimes come and ask
although I feel to be a preacher
for me has never been »hard« task.
I like my job, I like my work,
I like my sutdnets' sleepy faces,
for some of them I am a jerk
but of regret – there are no traces…
Sometimes it's not easy to explain
why English has so many tenses,
but as long as I can break some fences
I know my work is not in vain…
Last time a young man said hello
and told I taught him long time ago….
A baby slept in his hands' nest
and he whispered – »she was my teacher – and the best….
Mojca Božnik  0305
I TEACH, I LEARN – I LEARN, I TEACH
What did I at this conference learn:
It's not about how much you earn,
It's not what teachers make.
Don't be afraid to make a mistake,
And don't forget to sometimes take a break.
Playing with LEGO is always fun,
For teaching phonics use the word »sun«.
From mobile apps as a means to an end
To mobile assisted language use – that's the trend.
If you want to have great figure,
Irish dancing will make your muscles bigger.
Speaking of size : from pictures to props,
With YL everything should be as big as triceratops.
And when the technology decides to misbehave,
Put on your pretty face and just smile and wave.
Vesna Gros                Ladybird
The Bait Not Swallowed ( A TRIBUTE TO FROST)
I had two options on that day:
To lose it on to keep my cool.
To do both there seemed to be no way
And I couldn't simply go away.
That's why I stopped to weigh my steps
Practicing what could happen next.
Exploding will release my stress,
But staying calm will disturb us less.
As col as a cucumber, I went on,
Feeling that somehow I had won.
We wasted no time, the lesson was done,
All goals were achieved, we even had fun.
Thinking about it during the break,
There was no doubt and no regret.
I chose reason over instinctive rage
And that made all the difference.
Helena Miklavčič   Raca
The Dark Is What Keeps Me Alive
Dark is the maze I am wandering
Plague defiles its roots so deep
Where do I go? To the old or unknown?
There's no map to read
Old is laid to waste
New should fix the taste
Savour every drop you suck
Venerate new gold
If you want to have some luck
Choose the path which will have fulfilled you
Even though it hurts at first
Plunge to your life, to your freedom
And embrace, brace
Dark, the dark is what keeps me alive
Power from the black
Dark, the dark is what has the suprise
All emotions touched
Enter the void
Luka Lavrin               Transcendency
There Once Was A Conference…
There once was a conference in March,
Where teachers were taught to recharge.
But instead it transpired,
That truly desired,
Were facials and spas by and large.
Barbara Urh in Alenka Jana Jančar
IATEFL
Inspiring
Actively-involved
Top-notch speakers
Enthusiastic
Forward-looking
Leaving with a feeling of great satisfaction
Martina Kobal
I TEACH THEREFORE I AM
I guess you don't know me
Teacher, this is who I am
Endless preparations
Active all the time
Caring for students
Hopeful to the end
Tired but not bored
Happy at the ned of the day
Energetic an lively
Romantic believer
Extreme reliever
Focused on the lessons
Open to students' ideas
Ready to listen
Eager to learn new stuff
Interesed in new topics
Am I stupid or what
Might be, but I like it
Jolanda Obronek
TEACH?!
When I was a naive school boy
I asked my mother and father
what all the teachers are for.
Are they important? Are they »for real«?
Are they someone I should ignore?
My mother and father were thrilled to report
that – in the world – there are teachers of all sort.
Some might be laid back, some might be tense
but they're the lot that should be adored!
After sitting in schools for a decade and more
…observing…constantly learning…accepting them all,
I grew up and had to make a life-changing choice.
What to do? Who should I become?
There was only one person who knew –
and it wasn't my mum.
Having my experience, values and wishes in mind
Becoming A TEACHER did not spring as a surprise.
So, now – again after a decade and more,
there is merely one thing that I can ensure –
Being a teacher is priceless indeed.
I teach but I also learn as I teach…
I work but I also have fun as I work…
DON'T get me wrong – it's not all fun and games.
Oh, but…it's incredible….it's remarkable – it's IT!
I teach because that is what really makes a difference.
I teach because I want the future to be bright and ours.
I TEACH… and I hope I'm learning enough
to teach as I should be teaching.
Tjaša Lemut Novak
Says who? I do!
Cosy as it it
year after year,
looking fo friends
without any fear.
Eye contact making
all day round,
sweet smiling
without any sound.
I'm finally here
prepared to learn,
how to relax myself
'cause it's my turn.
Setting an example
to be proud and fair,
I hope you all
Enjoy, share &care.
Lidija Branilović
When there's IATEFL there's always sun,
Why, oh, why when inside there's much more fun.
But torn apart you should not be,
Behave like a teacher, be a bee.
Mojca Fink
An ode to a conference
English teacher have so much fun,
Oh thanks God I'm not a nun!
At the conference we share knowledge,
So our lesson plans are always flawless.
Thank you IATEFL team,
This event wae really supreme!
Anja Colja
I TEACH, THEREFORE I LEARN
Inside and outside together we create
And pass on our milestone at knowledge
Teach is what we do, and damn we do it well mate
Endless is our imagination already at college
For, together we all are great future makers
Long, kind, amazing – just like cookie bakers!
LONG LIVE THE IATEFL!
Nina Gorkič
A TEACHER BEFORE SLEEP
Being a teacher is my profession,
it's a calling, not obsession.
I need a break or two a year
and occasional enthusiastic cheer
by students and their parents alike,
and I don't want to pick a fight.
It's true, along my teaching route
I learn a lot,
it's not for good
in every spot
I see that knowledge boundless lies,
to get obtained by me it cries,
and all for the betterment of you, my kids,
it's night now – time to close my eyelids.
Tadej Braček
IATEFL PARADISE
What the hack? I can't go back?
No way, I say, I'm going my way!
Look at me, set yourself free!
Go with the flow,
There is nothing you don't know.
'Cause i'm a teacher,
not a preacher,
I'm standing up with shining eyes,
let's all join hands in IATEFL paradise.
Jolanda Obronek
IATEFL POEM
Teaching is like juggling 10 pies in space
It tastes lime warm marshmallow on a cold night
It smells like pencil shavings in a coffee pot
It sound like rockets launching into unknown
It makes me feel joyful!
Katarina Ule
A CONFERENCE TO INSPIRE
Like oil-lamps in the night
We burn with fire.
To teach is our aim,
To commit to knowledge, to inspire!
But what with all the stress,
Can we unwind, recharge, rewire?
There is a yearly chance for us,
It isn't dire,
There ia s place, a gathering
We all admire,
That makes us realize
No matter where or how we turn,
We teach, therefore we learn.
Aleksandar Tonić
I TEACH THEREFORE I LEARN
It's difficult to rhyme
but not if you have time,
so listen to my story
you won't be sorry.
Once there was a little girl
in a big, big world,
she was as gentle as a pearl,
her imagination flying like a bird.
>From the very beginning
English words had her spinning,
entertaining and explaining
all the learning puzzles remaining.
To be honest and to be true,
to forget all the times she was blue,
English was her shield,
where teaching was cunningly concealed.
So she was learning and midnight oil burning
so many pages turning and turning,
until with a blink of an eye
teaching was the chioce she had to justify.
She was testing and assessing,
With her nails in the desk often scratching,
but her heart was reaching
so many heights with the kids teaching.
Sometimes easy and sometimes hard,
in the classroom or running around the yard,
with quizzes and bruises, tests and tears,
with lots of fun the kids would overcome the fears.
She was proud and she was strong,
preparing them for life while she sang,
teaching them to fight te wrong,
be creative and change te world with a bang.
And now there's little Ena,
whose teacher is Jelena,
and she says : »When I grow up I want to be a teacher,
not just any creature, but an English teacher.«
We teach therefore we learn
and make so many worlds turn,
getting richer and richer
with every smiley face we feature.
Jelena Spasić
A big thank you to our sponsor for the fantastic prizes and also to all poets among the teachers who took the time and participated.